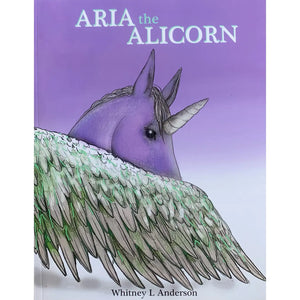 Whitney Anderson | Aria The Alacorn
Meet Aria the alicorn, she's a unicorn with wings! Find out what it's like to be an alicorn for a day and the life lessons about how it's more fun standing out versus fitting in.
Copyright 2021

Recommended ages 3-10

Hand-drawn illustrations and story by Whitney L Anderson
About The Author 
Whitney is a 9x published author and multidisciplinary fine artist practicing in the mediums of drawing, graphic design/illustration, painting and collage. She has showcased her work nationally and internationally. Born in Alaska, she is the daughter of a 3rd-generation salmon boat captain and spent every summer working on the Aleutian Peninsula with her family. Whitney spent her primary school years in Mukilteo, WA and later moved with her family to the Rocky Mountains of Colorado.