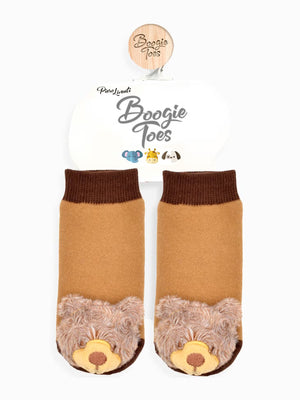 Boogie Toes | Grizzly
Mama bears and their cubs will love these adorable grizzlies! Soft brown fur and a complimentary two-tone brown sock complete a look that's wild and wonderful! Rubber grip-bottoms provide traction for new walkers. And grizzly bear faces double as rattles. Boogie Toes are the perfect addition to any kid wardrobe and make great gifts too!

100% Combed Cotton Rattle Accessory Socks.

Hand Linked.

85% Cotton, 10% Nylon, 5% Spandex.