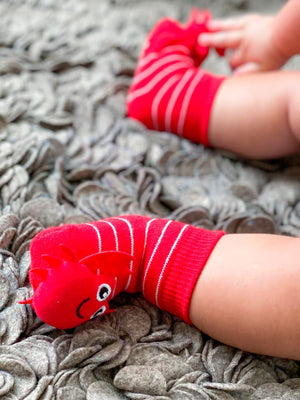 Boogie Toes | Red Crab
Bright red crabs are more than just adorable attention grabbers! Smiley faces and big eyes keep toes warm while white stripes bring a nautical feel to these unique socks. Rubber grip-bottoms provide traction for new walkers. And litttle stuffed crabs double as rattles. Boogie Toes are the perfect addition to any kid wardrobe and make great gifts too! 

100% Combed Cotton Rattle Accessory Socks.

Hand Linked.

85% Cotton, 10% Nylon, 5% Spandex.